By Gavin | February 25, 2022
I will use this article to introduce how to register GE appliances?
At the very beginning, I want you to know that geappliances.com/register is not a mandatory GE campaign. If you don't wish to register, your appliances will enjoy the same excellent service from GE.
However, by registering as a member, we will get more services.
And registering with GE Appliances is a straightforward process. GE Appliances offers an online registration method. So users can complete the online self-registration process with the help of their personal computers.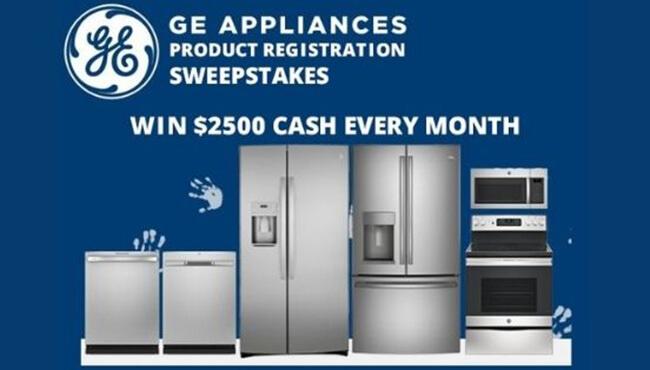 Register GE Appliances Online Instructions
Please visit www.geappliances.com/register. This is the official website of GE Appliances.

After visiting, the GE website will jump to a new page, don't worry about it. This is a typical action of the website.

The page will have 3 sections, 'CONTINUE AS GUEST', 'SIGN IN TO YOUR ACCOUNT' and 'CREATE ACCOUNT'.

We need a new registration, so click the 'CREATE ACCOUNT' button.

After coming to the new page, we can register with a Social Network account, such as a Google or Facebook account.

Fill in your personal information on this page, including your full name, email address, address, and phone number. After that, go ahead and click on the 'CREATE ACCOUNT' button.

Please continue to fill in Model Number, Serial Number, and Installation Date. If you do not know how to find your Model Number, please visit my model number located? Link, which you can find under this field.

Finally, click the Continue button to complete the rest of the process and register your device.
Why We Need Register Ge Appliances
First, GE has clearly stated that not registering will not affect our rights. Here is the original article from GE's website.
Important: Failure to complete and submit this form does not diminish your warranty rights.
And after registration, we will get more GE services. For example, electronic manuals, online access to appliance purchase time, product serial numbers and warranty dates, etc.
An even bigger bonus is that by registering, we can have the chance to win $2,500.
How To Win GE Appliance $2500
By registering your device, you will automatically be entered for a chance to win $2,500. Here are some tips on what you need to know about the sweepstakes.
When you register your appliance, you're automatically entered for a chance to win $2500!
Please visit https://ge.appliancesaccount.io/MyAccount/official-rules for more details.
The above page describes the lottery.
SWEEPSTAKES TIMING

ELIGIBILITY

HOW TO ENTER

RANDOM DRAWINGS

GRAND PRIZES

GENERAL RULES

DISPUTES

PRIVACY POLICY

WINNERS LIST

SPONSOR/ADMINISTRATOR
Please note that there is a time limit on this lottery.
The GE Appliances "Win $2,500" Sweepstakes ("Sweepstakes") begins at 12:00 a.m. Eastern Time ("ET") on January 1, 2022, and ends at 11:59 p.m. ET on December 31, 2022 ("Sweepstakes Period")
GE Appliances CA
If you are a Canadian resident, please click on this link https://www.geappliances.ca/after-sales-support. After visiting the page, select the 'CREATE YOUR ACCOUNT' button to continue.
About GE Appliances
With a heritage and brand reputation that spans more than 100 years, GE appliances have won many consumers worldwide.
GE Appliances has always been committed to providing products and services that keep up with the times and win more customers every year.
Today's GE appliances are becoming increasingly popular.
Conclusion
Through the above introduction, we can know how to register GE appliances and win $2,500.
According to past experience, when we buy appliances or other furniture, the receipts and instruction manuals cannot be found after a while.
GE Appliances offers this online registration campaign to help us maximize our ability to retain or access information using modern electronic means.
This GE registration campaign is really convenient for us consumers.
Suppose you want to learn more about GE appliances. In that case, you can also visit my other articles, How To Connect GE Washing Machine To WiFi and Schedule A Service Appointment For Your GE Appliances.
Finally, good luck to everyone who can win $2,500.